Diabetes Cardiac Care| Best doctors for cardiac care
Affordable & best treatment by top-rated health coaches/ doctors
Online/offline Diabetic Cardiac care consultation for patients starting At 500 rupees.
Treatment for cardiovascular problems via Virtual care, Mobile tracking,tele-consultations, and in-person meeting available 24/7
Book Appointment
---
Book Appointment or Video Consultation online with top diabetes doctors
Model Of Diabetes Mantra For Diabetic Cardiac care
Real, proactive health coaching
DiabetesMantra members are connected with a professional health coach for one-on-one coaching and support.
Continuous Remote Medical Care
DiabetesMantra coaches are 100% virtual and provide offline medical care as well, whenever and wherever patients need it. Our technology-enabled approach helps Weight loss without medications.
Personalized Diet Planning
DiabetesMantra practices carbs/ fats restriction while preparing a diet chart, which proves to be effective and sustainable. We individualize treatment for each person with a diet chart based on their routine and preferences.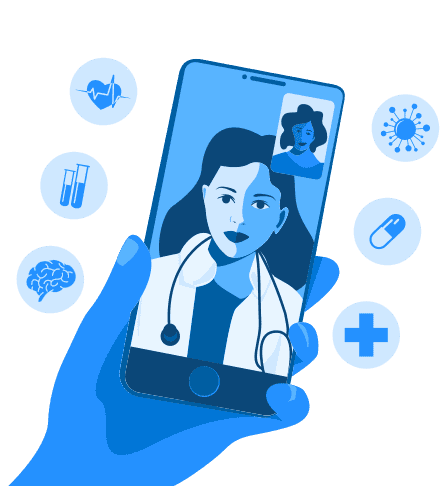 The world's best diabetes clinic in your pocket
Our medical providers and health coaches are available on a near real-time basis through an easy-to-use mobile application. Our advancements in technology and data science enable expert care and personalized care plans for all of our patients.
Signup for Diabetes program
Just complete a simple 5-minute online application to check your eligibility for the program and enroll.
Meet your care team
We'll match you with a Mantra health coach available 24/7 to you via call or chat.
Connect to our app
Follow suggestions provided by the app and your coach to beat diabetes. Track your progress in the app
People facing diabetes have double changes to face heart attack and strokes. The American Heart Association has stated that diabetes is one of the risk factors for cardiovascular disease. Over time, high blood glucose can damage the blood vessel and also the nerves that control the heart and blood vessels.
People with diabetes can manage their heart health by keeping their blood glucose at a normal range and also keep cholesterol at a normal range. 
Heart disease include various kind of problems that can affect the heart. There's a term called  "Cardiovascular diseases" which includes all types of heart diseases, stroke, and blood vessel disease. The most general type is coronary artery disease that affects blood flow to the heart.
Testing for heart disease
The doctor needs to overlook a report of your blood pressure, cholesterol level reports, and also your weight as it will tell the exact report, and determining the overall risk of heart diseases would get easy.
The doctor may also recommend you some tests to determine your heart health that are given below-
Electrocardiogram (ECG or EKG) – In this test, the doctor will overlook your heart's electrical activity and the heartbeat is a result of an electric impulse travelling through the heart.
Echocardiogram (echo) – In this, the doctor will examine how thick your heart is and how well your heart pumps.
Exercise Stress test (Treadmill test) – The doctor will inspect that how fast your heart will work in a hard situation.
Treatment of heart disease of those with diabetes
There are various several treatment options for heart disease, depending on the severity of the heart diseases-
Aspirin therapy – Daily aspirin therapy may reduce the risk of a heart attack. The aspirin prevents a heart attack by interfering in the blood's clotting action called platelets, which build up at the side of the wound and the platelets help a plug that seals the opening in the blood vessel to stop bleeding.     
Diet– Diet which consists of heart-healthy food lowers the risk of heart diseases in the future. The diet should reduce your blood sugar, overall cholesterol, triglycerides, and fasting blood sugar. Normally, a heart-healthy diet means: low in sodium, low in cholesterol, high in fiber, low in saturated fats, free of trans-fat, and high in antioxidants, vitamins, and minerals.
Exercise – Exercise is not only done for a weight-loss purpose, but it can also help in improving blood sugar level, cholesterol level and to decrease abdominal fat and a risk factor of disease.    
Medicines – Currently, both Empaglifolzin and Liraglutide are the only approved medication to prevent heart people with diabetes. But, before taking any medication taking a proper prescription from the certified doctor.
Surgery – Both bypass surgery and its less invansive surgery are used by the doctors
Meet the best diabetes doctor
DiabetesMantra doctors/ experts treat diabetes through a combination of a healthy diet, exercise, and medication. Our diabetes treatment experience is a better traditional in-person approach in multiple ways
Dedicated health coach
Daily support and answers to Diabetes questions are just a message away

Continuous medical supervision
Physician-led care team monitors your Diabetes continuously via the app
Patient community
A private, opt-in forum for support from others suffering from Diabetes
Expert care anywhere anytime
DiabetesMantra is 100% online—no waiting rooms, just on-demand care
No carbs restriction
We change what you eat, not how much you eat. Your diabetes treatment happens without starving or fasting.

Less diabetes medication
Diabetes Mantra's nutrition therapy normalizes blood sugar, which reduces your need for medication for diabetes treatment
Personalized fitness regime
Fitness regimen, Food preferences & medications—we individualize and design for flexibility to ensure long-term health.

Avoid Diabetes Surgery
Bariatric surgery can reverse diabetes but is very risky and expensive. We reverse diabetes without surgery.
10,000+ Happy Patients from Mumbai & the world
Our patients are redefining success
"I was diagnosed with Type II diabetes at young age. DiabetesMantra played a pivotal role in my diabetes reversal. They have excellent doctors in their online Mumbai Clinic who tracked my symptoms, designed my diet, advised exercise and medications. I couldn't have asked for a better diabetes treatment in Mumbai."