Diabetes treatment Online | Best Diabetes doctor
Affordable & best diabetes treatment by top health coaches/ doctors
Treatment for Type I, Type II diabetes & pre-diabetes via virtual care & teleconsultations available 24/7
Online diabetes care consultation starting at $10.
Book Appointment
---
Book Appointment or Video Consultation online with top diabetes doctors
Understanding Diabetic Retinopathy
Diabetes can affect the eye in various ways. Diabetic Retinopathy is a common vision-threatening complication which causes damage to the retina, the light-sensitive layer at the back of the eye. The risk of developing retinopathy is higher for patients who have had uncontrolled diabetes for a long time. It has been estimated that about 70% of patients who have had diabetes for over 15 years will have some damage to their eyes due to diabetes. Efficient methods are available to detect high-risk retinal lesions and blindness due to diabetes which can be prevented if early detection is done and timely treatment is administered.
Real, proactive health coaching
DiabetesMantra members are connected with a professional health coach for one-on-one coaching and support.
Continuous Remote Medical Care
DiabetesMantra coaches are 100% virtual and provide offline medical care as well, whenever and wherever patients need it. Our technology-enabled approach helps Weight loss without medications.
Personalized Diet Planning
MantraCare practices carbs/ fats restriction that is effective and sustainable. We individualize treatment for each person, with a diet chart based on your routine and preferences.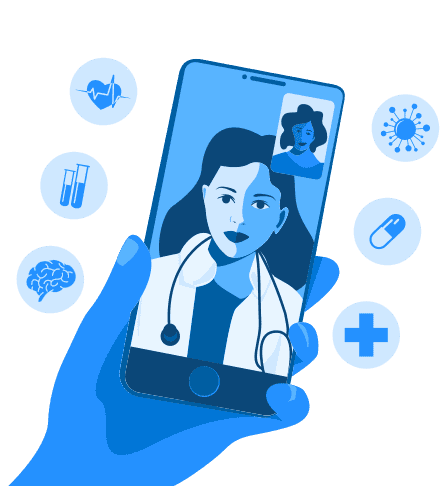 The world's best diabetes clinic in your pocket
Our medical providers and health coaches are available on a near real-time basis through an easy-to-use mobile application. Our advancements in technology and data science enable expert care and personalized care plans for all of our patients.
Signup for Diabetes program
Just complete a simple 5-minute online application to check your eligibility for the program and enroll.
Meet your care team
We'll match you with a DiabetesMantra health coach available 24/7 to you via call or chat.
Connect to our app
Follow suggestions provided by the app and your coach to beat diabetes. Track your progress in the app
The combined effort of diabetologists and ophthalmologists makes implementation of a screening programme for retinopathy possible in our country. The main problem in diabetes retinopathy is that patients will not have any visual or ocular symptoms until the central seeing area of the retina (macula) is affected or if there is bleeding in the eye. The retinal examination must be done once a year (annually) starting from the time of diagnosis of diabetes for all patients with diabetes.
Every patient with diabetes is advised to take an annual comprehensive eye examination at the centre. This involves:
Checking vision using the latest equipment
Measurement of the eye pressure
Examination of the front portion of the eye by slit lamp for cataract assessment
Dilatation of the pupils using eye drops
Retinal/ Fundus examination of the back of the eye
Fundus Fluorescein Angiography (FFA) is a procedure which involves intravenous injection of a dye in the arm and then taking rapid sequence photographs of the retina. This helps the ophthalmologist to have a complete assessment of the changes in the retina and pinpoint the specific areas in the retina which are diseased.
Optical Coherence Tomography (OCT) is a non-contact non-invasive retinal imaging technique, using infrared light to visualize the biological tissues/ layers of the retina, especially the central vision area of the retina, namely the macula. Qualitative and quantitative measurements of retinal morphology by the OCT makes it a powerful adjunct to conventional fundus examination and FFA, not only for diagnosis but also track disease progression and monitor response to treatment for sight-threatening retinopathy. It is useful in the evaluation and management of diabetes macular edema and various other retinal disorders.
Good blood sugar control is the mainstay of treatment for retinopathy. Laser photocoagulation and intravitreal injections are the gold standard treatment advised for patients with sight-threatening retinopathy. State-of-the-art laser photocoagulation equipment is available for treatment at our centre.
Meet the best diabetes doctor
DiabetesMantra doctors/ experts treat diabetes through a combination of a healthy diet, exercise, and medication. Our diabetes treatment experience is a better traditional in-person approach in multiple ways
Dedicated health coach
Daily support and answers to Diabetes questions are just a message away

Continuous medical supervision
Physician-led care team monitors your Diabetes continuously via the app
Patient community
A private, opt-in forum for support from others suffering from Diabetes
Expert care anywhere anytime
DiabetesMantra is 100% online—no waiting rooms, just on-demand care
No carbs restriction
We change what you eat, not how much you eat. Your diabetes treatment happens without starving or fasting.

Less diabetes medication
Diabetes Mantra's nutrition therapy normalizes blood sugar, which reduces your need for medication for diabetes treatment
Personalized fitness regime
Fitness regimen, Food preferences & medications—we individualize and design for flexibility to ensure long-term health.

Avoid Diabetes Surgery
Bariatric surgery can reverse diabetes but is very risky and expensive. We reverse diabetes without surgery.
10,000+ Happy Patients from Mumbai & the world
Our patients are redefining success
"I was diagnosed with Type II diabetes at young age. DiabetesMantra played a pivotal role in my diabetes reversal. They have excellent doctors in their online Mumbai Clinic who tracked my symptoms, designed my diet, advised exercise and medications. I couldn't have asked for a better diabetes treatment in Mumbai."