Specialized Diabetes Kidney Care Program | Best Diabetic nephropathy trainer
Affordable & best treatment by top-rated health coaches/ doctors
Online/offline fitness consultation for patients starting at 500 rupees.
Diabetic Kidney care/treatment via Virtual care, Mobile tracking, Tele-consultations, and in-person meeting available 24/7 
Book Appointment
---
Book Appointment or Video Consultation online with top diabetes doctors
Model Of Diabetes Mantra For Diabetic Kidney care
We will provide a personalized plan created for each person based on the current condition of Diabetic kidney care and identify the problem through different assessments, evaluations, etc.
Diabetes Mantra tries to equip individuals to deal with diabetes by a step-wise method. We also try to train individuals with diabetic nephropathy improving skills such as a healthy diet, exercise, and regular blood level check-ups.
Specialized Team of experts
We have a specialized team of doctors who have done a lot of research on diabetic kidney care and successfully improved the health of a lot of patients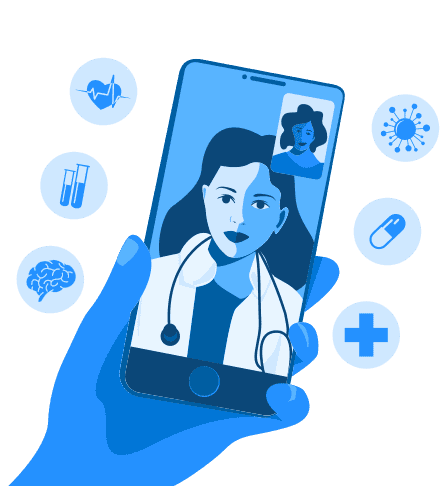 The world's best diabetes clinic in your pocket
Our medical providers and health coaches are available on a near real-time basis through an easy-to-use mobile application. Our advancements in technology and data science enable expert care and personalized care plans for all of our patients.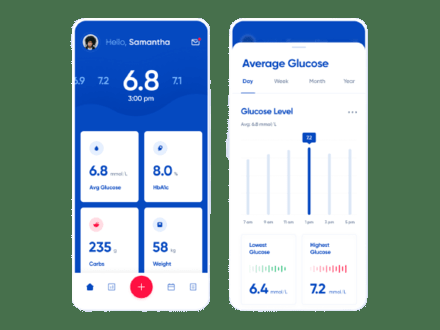 Signup for a Diabetic kidney care program
Complete a simple 5-minute online application to enroll yourself in the program.
Meet your care team
We will connect you with our Diabetes Mantra doctors available 24/7 to you via call or chat or you can fix a meeting with the doctor.
Connect to our app
Follow suggestions provided by the app and your doctor. Track your progress in the app
If you're facing diabetes, then it becomes important for you to take care of the kidney. Diabetic kidney disease is a disease that causes due to diabetes and it is called the term "Diabetic Nephropathy". Type -1 and Type-2 diabetes are the most common cause of kidney diseases.
Diabetic kidney diseases are also called DKD, chronic kidney diseases, CKD, kidney diseases of diabetes, or diabetic nephropathy.
About 1 people out of 3 people develop kidney problems when facing diabetes.
When you're facing diabetic nephropathy then it disturbs the kidney's ability to work in the removal of waste products and extra fluid from the body. If not treated, the condition will slowly damage the kidney's filtering system.
GFR means glomerular filtration stage that measures the level of kidney function and damage. The doctor can calculate it through the results of blood creatinine test, age, body diseases, and gender. The GFR number will indicate that how much your kidney function. As the GFR number goes down in number, the worst is kidney disease.   
There are 5 stages of Diabetic Kidney disease.
| | | |
| --- | --- | --- |
| Stages | Kidney Damage | GFR |
| Stage 1 | Kidney Damage with normal kidney function | 90 or higher |
| Stage 2 | Kidney damage with mild loss of kidney function | 89 to 60 |
| Stage 3 A | Mild to moderate loss of kidney function | 59 to 45 |
| Stage 3 B | Moderate  to severe kidney function | 44 to 30 |
| Stage 4 | Severe loss of kidney function | 29 to 15 |
| Stage 5 | Kidney Failure | Less than 15 |
If treated early, it can delay or prevent the onset of diabetic nephropathy. The goal of providing the treatment is to maintain blood sugar and glucose level in the body which sometimes involves the intake of medication.
There are various ways doctors provide the treatment depending upon the condition and severity of the patient-
Drug treatment – Medications such as angiotensin converting enzyme (ACE) Inhibitors or Angiotension receptor blockers (ACB) helps in lowering blood pressure, sugar level, protect kidney function.
Dietary changes – If a person has kidney diseases, the doctor will ask you to make some dietary changes and add nutrients such as sodium, protein, phosphorous, and potassium.
If diabetic neuropathy gets into a critical stage, then the patient would need either dialysis or a kidney transplant. The process of dialysis is a life-long process, and can only be stopped by a kidney transplant.
Kidney dialysis is a procedure in which a machine is used to separate waste products from the body and remove them from blood. The process of dialysis acts as a healthy kidney.      
There are various type of dialysis –
Hemodialysis – In this type, the blood leaves the body when a needle is inserted and then passes through a tube to a dialysis machine. The blood is filtered in the machine and blood gets to return back to the body and tube.
Peritoneal dialysis – This method uses the lining of the abdomen or peritoneum (a membrane that forms the lining of the abdominal cavity or coelom in amniotes) fluid to enter through a catheter.  The fluid enters the body and filters the waste products before draining them out. The draining process will take 30-40 minutes.
 The doctor may recommend a kidney transplant, at a final stage and if a suitable donor can provide you with a kidney. Sometimes, people donate their kidneys to their loved ones and you can live your life with one kidney. And it is said that the transplant from the family member has the best chances of accepting the kidney to the patient.
The person accepting the kidney transplant will need to take medication to reduce the risk of the body rejecting the kidney. One of the side effects patients get after the completion of a kidney transplant is a risk of infection.
Meet the best diabetes doctor
DiabetesMantra doctors/ experts treat diabetes through a combination of a healthy diet, exercise, and medication. Our diabetes treatment experience is a better traditional in-person approach in multiple ways
Dedicated health coach
Daily support and answers to Diabetes questions are just a message away

Continuous medical supervision
Physician-led care team monitors your Diabetes continuously via the app
Patient community
A private, opt-in forum for support from others suffering from Diabetes
Expert care anywhere anytime
DiabetesMantra is 100% online—no waiting rooms, just on-demand care
No carbs restriction
We change what you eat, not how much you eat. Your diabetes treatment happens without starving or fasting.

Less diabetes medication
Diabetes Mantra's nutrition therapy normalizes blood sugar, which reduces your need for medication for diabetes treatment
Personalized fitness regime
Fitness regimen, Food preferences & medications—we individualize and design for flexibility to ensure long-term health.

Avoid Diabetes Surgery
Bariatric surgery can reverse diabetes but is very risky and expensive. We reverse diabetes without surgery.
10,000+ Happy Patients from Mumbai & the world
Our patients are redefining success
"I was diagnosed with Type II diabetes at young age. DiabetesMantra played a pivotal role in my diabetes reversal. They have excellent doctors in their online Mumbai Clinic who tracked my symptoms, designed my diet, advised exercise and medications. I couldn't have asked for a better diabetes treatment in Mumbai."