Best Diabetologists in India/ Diabetes Treatment Online / In-person
Get rid of Diabetes with quality treatment
Treatment by top Doctors/Diabetologist whenever and wherever needed
Affordable Online/In-person Diabetes/treatment session starting at 500Rs/per session.
Free Tele-Consultation
---
Book Appointment or Video Consultation online with top diabetes doctors
Model Of MantraCare For Diabetes
We will provide a personalized plan created for each person based on the blood sugar and identify the problem through different assessments, evaluations, etc.
DiabetesMantra tries to equip individuals to deal with diabetes by a step-wise method. We also try to make individuals have a better lifestyle by providing a diet plan, exercises routine, etc.
Specialized Team of experts
We have a specialized team of diabetologists who have done a lot of research on Diabetes and successfully recovered a lot of patients from diabetes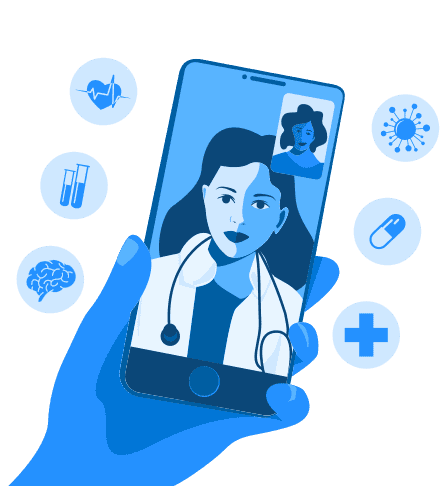 Best Diabetes Clinic in your pocket
Our diabetologist and sugar doctor are available on a near real-time basis through an easy-to-use mobile application. The use of AI, Technology, and data science enables expert Diabetes treatment to all of our patients
Signup for Diabetes Program
Complete a simple 5-minute online application to enroll yourself in the program.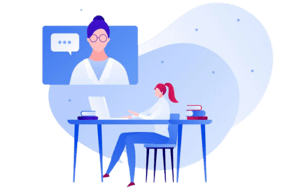 Meet your care team
We will connect you with our Diabetes Mantra Diabetologist available 24/7 to you via call or chat or you can fix a meeting with the doctor.
Connect to our app
Follow suggestions provided by the app and your doctor. Track your progress in the app
All about Diabetologist/Diabetes specialist
What is diabetologist?
Diabetes is a chronic disease that affects numerous major organs of our body like, if not controlled. In diabetes, the blood sugar level and quality of life are affected and need various treatments. A person with diabetes needs treatment according to the symptoms and complications. A diabetologist is a person who specializes in treating diabetes and can make the treatment easy and effective.
Which doctors treat diabetes?
Diabetes can cause numerous serious consequences on a person's body like kidney damage, eye diseases, foot problems, gum diseases. These different diseases need treatment from different doctors for recovery. The doctors, a diabetic patient may need to see are-
General physician
Every family is connected to a general physician who is usually the first to notice the symptoms of high blood sugar. The symptoms might pop-up during a regular check-up. If there are any other severe symptoms, the physician will probably refer the patient to a specialized doctor.
Endocrinologist
Endocrinologists are doctors who specialize in dealing with glands and the hormones they produce. In Type 1 diabetes pancreas (gland), does not produce insulin (hormone) which helps the sugar to move into body cells from the bloodstream. The body cells need sugar for energy but lack of insulin leads the cells to starve and increasing blood sugar levels. An endocrinologist helps in dealing with the issue.
Podiatrist
One of the most common complications that diabetes can cause is foot problems. Diabetes affects blood circulation and damages nerves which can result in unhealed ulcers. A podiatrist can notice the problem and help the patient to treat it.
Ophthalmologist
A diabetic patient can develop eye conditions like cataracts, glaucoma, retinopathy. An ophthalmologist can help prevent these conditions in the early stages.
Dietician & physical trainer
A diabetic patient should consult a dietician for a customized diet plan that will help in controlling diabetes. A dietician can suggest the right portion of each nutrient required to control the blood sugar level.
Whereas a physical trainer will help in managing diabetes through the exercises. For example, aerobics and resistance exercises are beneficial for people with diabetes.
Top doctors at DiabetesMantra
Shweta Jain
MBBS, DNB (Opthal.), M. DOS, M.AIOS, M.DMC
She is a senior ophthalmologist at Eye Mantra with experience of over 10 years. Dr. Shweta has performed more than 1500 successful surgeries. Including squint, retina, corneal repair, etc. She has treated many patients with diabetic complications like a squint, retina, corneal repair, etc.
Anil Kumar Sahu
BSC, MBBS, DNB- family medicine
Dr. Sahu is a family physician and diabetologist at Eye Mantra who has treated many diabetic patients so far. He has formerly worked at Maharaja Agrasen Hospital and Guru Gobind Singh govt. Hospital.
Meet the Best Diabetes Doctor
Diabetes Mantra doctors/ experts treat diabetes through a combination of a healthy diet, exercise, and medication. Our diabetes treatment experience is a better traditional in-person approach in multiple ways:
Dedicated health coach
Daily support and answers to Diabetes questions are just a message away

Continuous medical supervision
Physician-led care team monitors your Diabetes continuously via the app
Patient community
A private, opt-in forum for support from others suffering from Diabetes
Expert care at our home
DiabetesMantra is online—no waiting rooms, just on-demand care at home
No carbs restriction
We change what you eat, not how much you eat. Your diabetes treatment happens without starving or fasting.

Less diabetes medication
Diabetes Mantra's nutrition therapy normalizes blood sugar, which reduces your need for medication for diabetes treatment
Personalized fitness regime
Fitness regimen, Food preferences & medications—we individualize and design for flexibility to ensure long-term health.
Free Testing worth Rs 5000
Most DiabetesMantra packages includes over 30+ tests to complete diagnose and cure your diabetes
10,000+ Happy Patients around the world
Our patients are redefining success
"I was diagnosed with Type II diabetes at young age. DiabetesMantra played a pivotal role in my diabetes reversal. They have excellent doctors in their online India Clinic who tracked my symptoms, designed my diet, advised exercise and medications. I couldn't have asked for a better diabetes treatment in India."